Social Media Listening Platforms offer comprehensive analysis of the conversations happening around certain topics and keywords online.
For example you can follow how a piece of content becomes viral and who are the influencers fueling it: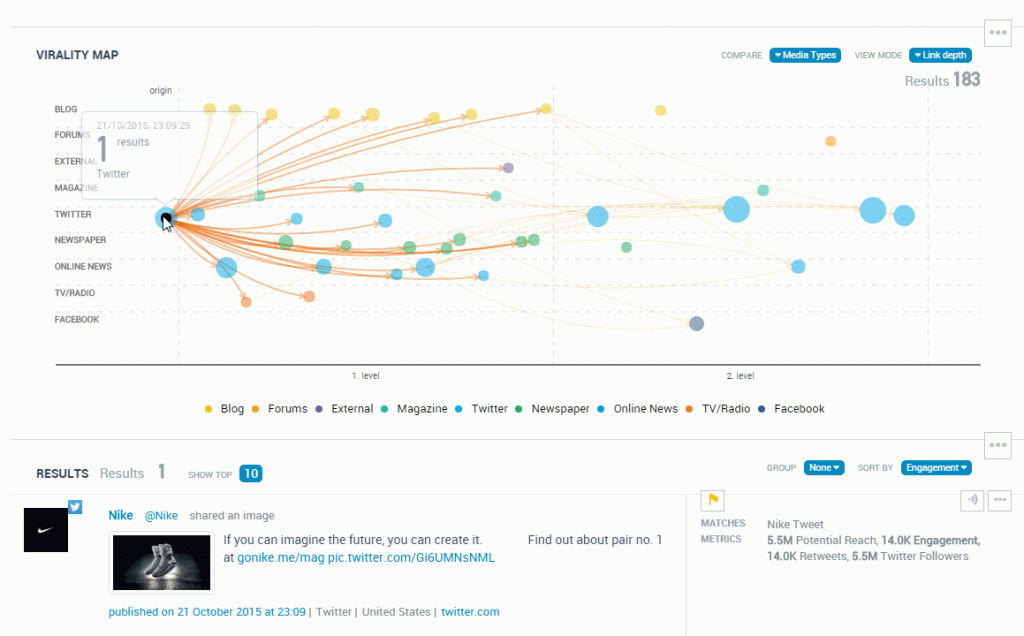 "While a network, like a group, is a collection of people, it includes something more: a specific set of connections between people in the group. These ties, and the particular pattern of these ties, are often more important than the individual people themselves. They allow groups to do things that a disconnected collection of individuals cannot. The ties explain why the whole is greater than the sum of its parts. And the specific pattern of the ties is crucial to understanding how networks function."
– Nicholas A. Christakis
With good influencer efforts you can have a huge impact bringing people on your side of an issue.
In 2019 you can see a clear increase of conversations in Germany around the quarterly global strikes using #FridaysForFuture.
Also in Germany, you can see the usage of the hashtags on Twitter around the 24.04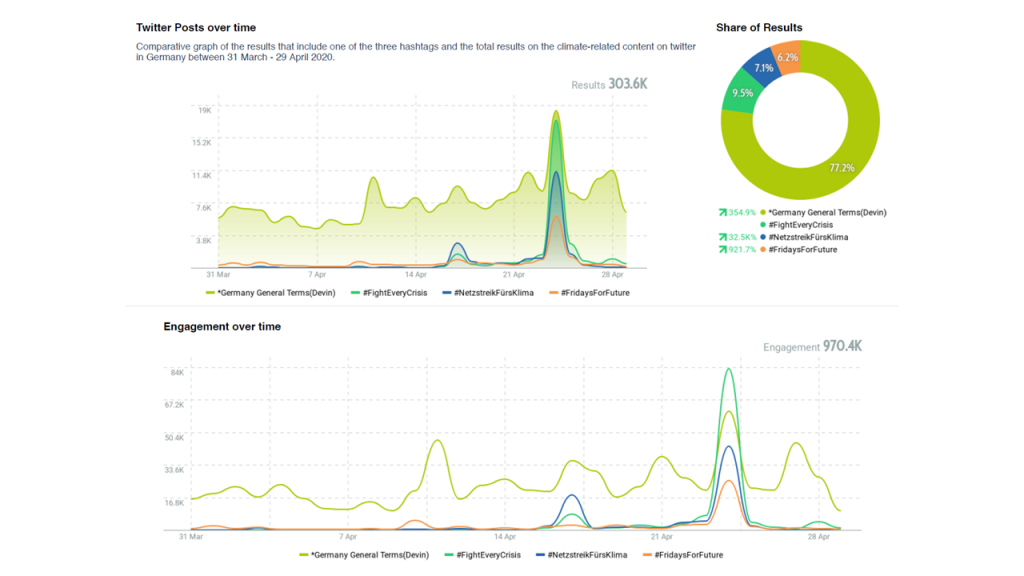 …and here the entire volume of conversations in Germany:
Intgrate these Social Signals into your campaign strategy.
Comprehensive Guide around Digital Listening, tools, etc. (mostly related to US Election Campaigning, but nevertheless insightful).
Great free tools for social media insights:
All – HashTagStack

Free and best HashTag Analysis and Builder.
All – Social Searcher

Free Social Media Search Engine with sentiment and keyword analysis.
Twitter – SocialBearing

Free insights & analytics for tweets & timelines (keep adding 100 Tweets more)
Twitter – Sentiment Viz

Tweet Sentiment Visualization
All – SparkToro

Discover what your audience reads, watches, listens-to, and follows
Twitter – FollowerWonk

Find, manage and analyze your followers.
Instagram & YouTube – NinjaOutreach

Analyze any Instagram account for in-depth information
Instagram – DisplayPurposes

Find influencers with the most powerful social engine on the web
Instagram – MetaHashtags & IQ hashtags

Instagram Hashtag Generator
All – SocialBlade

Social Blade compiles data from YouTube, Twitter, Twitch, Daily Motion, Mixer, Instagram and SnapChat (beta) and uses the data to make statistical graphs and charts that track progress and growth.
All – 20+ Social Media Tools

That offer discounts for nonprofits
Send me your favorite ones!